Evansville and Kentucky met for the first time in each of the schools' history Tuesday night and it was the typical David vs. Goliath matchup.
But no one expected the end result.
Evansville marched into the Rupp Arena and upset the top-ranked Wildcats, 67-64, ruining any chance of a perfect season for a Kentucky team that sports a handful of potential NBA prospects.
MEMPHIS, WISEMAN HAVE 1 MORE GAME, THEN IT'S BACK TO COURT
"To be here is a dream come true," Purple Aces sophomore DeAndre Williams said after the game. "We took advantage and we made history."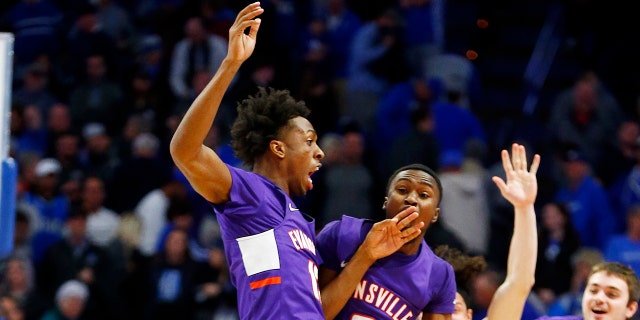 Sam Cunliffe scored 17 points, including two free throws with 6.8 seconds left in the game. The Wildcats were 25-points favorites going into the game, which most would think would have been a routine win for a top-ranked team, according to the Associated Press.
It's a signature win for Evansville coach Walter McCarty – who led Kentucky to a national championship in 1996. It's the first time Evansville has ever beaten a No. 1 team.
"We just believed and trusted each other and made plays for each other. Guys came out and gave their all. They've got a good basketball team. Kentucky's going to be a really good team, going to be around at the end of it," he said. "We played a heck of a game tonight."
UMASS GUARD SEAN EAST HITS AMAZING SHOT FROM OTHER END OF COURT
McCarty received huge praise from Kentucky coach John Calipari aft the game.
"Walter and their team deserved to win," Calipari said. "If we would have somehow pulled it out, it would have been, kind of wouldn't even have been fair because they fought us the whole game and they were the tougher team."
He added: "They executed, they made shots and 3s and free throws. My hat's off to them. It's hard to do that in this building, but they were more ready to play. He had his team better prepared than I had my team."
Tyrese Maxey had a chance to win the game with a long three-pointer at the end of the game, but his shot missed. He scored 15 points. Teammate Immanuel Quickley led the Wildcats.
CLICK HERE FOR MORE SPORTS COVERAGE ON FOXNEWS.COM
Kentucky had been on a 39-game winning streak against unranked, nonconference opponents when ranked No. 1 in the Associated Press poll before the loss.
Their loss also means it's the first time in AP poll history that two No. 1 teams have lost in November — the Wildcats knocked off Michigan State last week.
The Associated Press contributed to this report.
Original Source