The biggest stars in TV and film gathered in Beverly Hills, Calif. in the hopes of kicking off the 2020 awards season with a highly coveted Golden Globe award as notoriously controversial host Ricky Gervais wasted no time laying into the Hollywood elite vying for a big win.
Stars from films like "Once Upon a Time in Hollywood," "Rocketman" and "The Irishman" as well as shows like "Big Little Lies," "The Crown" and "Barry" were in attendance but the comedian and host was undeterred by the many famous faces staring back at him.
He called out the many stars in the room for their relationship to large corporations like Apple, Amazon and Disney.
RUSSELL CROWE TO MISS GOLDEN GLOBE AWARDS DUE TO DEVASTATING WILDFIRES IN AUSTRALIA: REPORT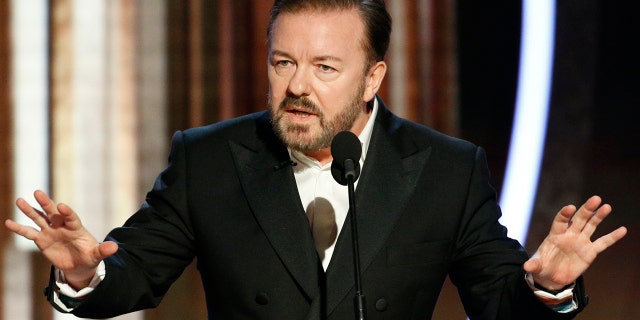 "Apple roared into the TV game with 'The Morning Show,' a superb drama about the importance of dignity and doing the right thing made by a company that runs sweatshops in China," he said." So you say you're 'woke', but the companies you work for, Apple, Amazon, Disney… If ISIS had a streaming service you would be calling your agents."
Gervais then mocked the stars in attendance for their relation to the late sex offender, Jeffrey Epstein. Gervais declared that Epstein didn't kill himself, prompting groans from the crowd.
"Shut up, I know he's your friend but I don't care."
NICOLE KIDMAN CRIES ON RED CARPET AHEAD OF GOLDEN GLOBES OVER AUSTRALIA WILDFIRES: REPORT
Next up on Gervais' jokes list was Felicity Huffman who recently completed a stint in prison for her role in the college admission scandal.
"You all look lovely all dolled up, you came here in your limos. I came here in a limo and the license plate was made by Felicity Huffman," he said to the crowd who cringed. "It's her daughter I feel sorry for. That must be the most embarrassing thing that ever happened to her. And her dad was in 'Wild Hogs,' so…"
He also took a shot at Leonardo DiCaprio for his film "Once Upon a Time in Hollywood" being three hours long.
"Leonardo DiCaprio attended the premiere and, by the end, his date was too old for him."
He added: "Even Prince Andrew is like, 'Come on Leo, mate. You're nearly 50."
He also set his sights on director Martin Scorsese's comments about Marvel movies being like theme parks, joking that he doesn't understand why the director would be at a theme park.
"He's not big enough for any of the rides."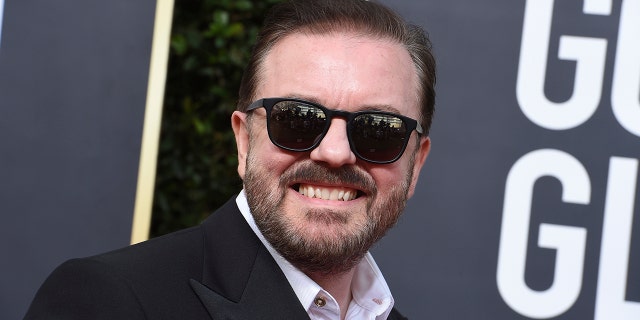 Gervais concluded his scathing monologue by warning the celebrities not to make any political or "woke" statements when accepting their awards.
"You're in no position to lecture the public about anything," he declared. "You know nothing about the real world. Most of you spent less time in school than Greta Thunberg."
With that, the host quickly welcomed Jennifer Aniston and Reese Witherspoon to introduce the first win of the evening. Ramy Youssef won best actor in a TV comedy for his series "Ramy," beating out fellow celebrities such as Michael Douglas, Bill Hader, Paul Rudd and Ben Platt. Next, Russell Crowe brought home the award for best performance by an actor in a limited series or motion picture made for television for "The Loudest Voice," but was unable to attend due to wildfires threatening his home in Australia.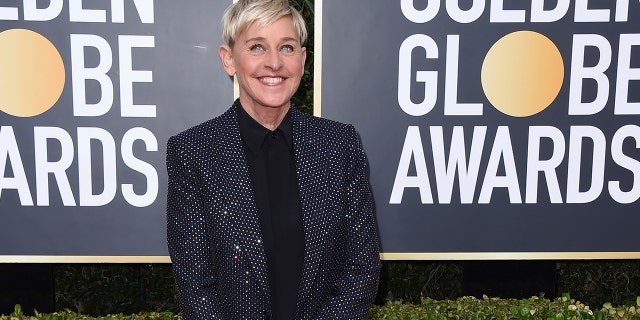 HBO's "Succession," meanwhile, was the first series to win one of the more anticipated awards, best television drama while the South Korean horror film "Parasite" kicked things off for the movies by winning best foreign language motion picture.
Kate McKinnon introduced the first of two special awards of the evening, honoring Ellen DeGeneres with the Carol Burnett Award for excellence in television. She spoke about the 61-year-old comedian's struggle when she came out as a lesbian and how it risked her career in 1997 and helped contribute to attitudes about the LGBT community changing.
"Because brave people like Ellen jump into the fire to make them change," McKinnon said through tears.
Ellen then took the stage to deliver a lengthy monologue filled with laughs and ended with a bit of heart as she explained that the power of television, to her, is having the ability to inspire people to do good in this world.
CLICK HERE TO GET THE FOX NEWS APP
"I'm so grateful to be a part of it," she concluded.
Original Source