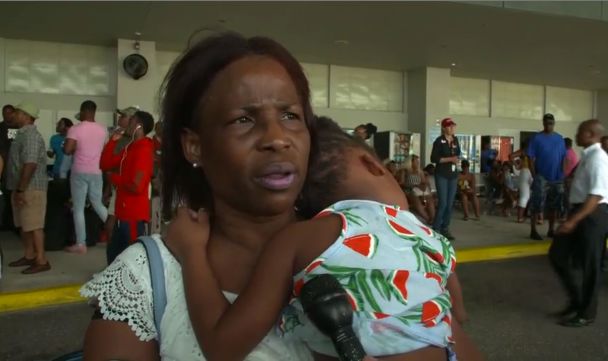 Ceva Seymour, 56, evacuated from Freeport with about 16 family members, including two three-year-old twins named Paris and London.
Seymour described how the roof of her home on Grand Bahama Island began to lift up due to the high winds at the height of Hurricane Dorian. She said she and her husband used basic tools like ropes, nails and hammers to cinch the roof of their home to the floor.
"It was very intense. You couldn't sleep," Seymour said. "I prayed a lot and asked God to calm the storm."
Though her roof managed to stay on, others weren't as fortunate, she said. Some of her relatives who live on the north side of Grand Bahama Island lost their homes entirely due to flooding.
Now, Seymour said she and her family are headed to her sister's house in Port St. Lucie, Florida, until Grand Bahama Island has water and electricity again. And though the past week has been incredibly stressful, she said she's grateful. Not everyone in the Bahamas has family members in Florida who they can stay with temporarily. Others aren't able to leave because they don't have passports.
"Having to travel here is a burden eased off us," Seymour said. "Because at least we have an opportunity to relax, whereas some others in the Bahamas can't even have this privilege."
"It hurts my heart," she added.
Original Source