Rep. Peter King, a veteran New York Republican lawmaker known for his bipartisan efforts and also his controversial comments on immigration and Muslims, announced Monday that he will retire and not seek reelection in 2020.
Interested in
Republican Party?
Add Republican Party as an interest to stay up to date on the latest Republican Party news, video, and analysis from ABC News.
King, 75, is a 14-term lawmaker who was first elected to New York's 2nd Congressional District in 1992. His vacant seat leaves Democrats with an opportunity to gain a competitive seat in the House as they look to defend — and possibly increase — their majority in 2020.
King announced his retirement in a Facebook post saying that "this was not an easy decision."
"The prime reason for my decision," King said, "was that after 28 years of spending 4 days a week in Washington, D.C., it is time to end the weekly commute and be home in Seaford."
"Politically, I will miss the energy and dynamism of a re-election campaign especially since my polling numbers are as strong as they have ever been and I have more than $1 million in campaign funds," he said. "Governmentally, I will miss fighting for the people of my district and America and will always be proud of my efforts for 9/11 victims and their families; protecting our citizens from terrorism and MS-13; leading the successful effort to recover from Superstorm Sandy; being consistently cited for bipartisanship; working with President Clinton to achieve the Good Friday Agreement and end centuries of warfare in Ireland and Northern Ireland; and standing with the brave men and women of law Enforcement."
King has seen his district, which encompasses parts of Suffolk and Nassau counties, grow more competitive in recent years. He won reelection in 2018 by only six percentage points after winning by 17 percentage points two years earlier. Donald Trump won the district by nine points in 2016, but President Barack Obama won the district in 2012 and 2008.
His district has also become increasingly more diverse going from roughly 75% percent white in 2010 to now roughly 60%, with other ethnic groups showing a slow but steady increase, according to figures from the U.S. Census.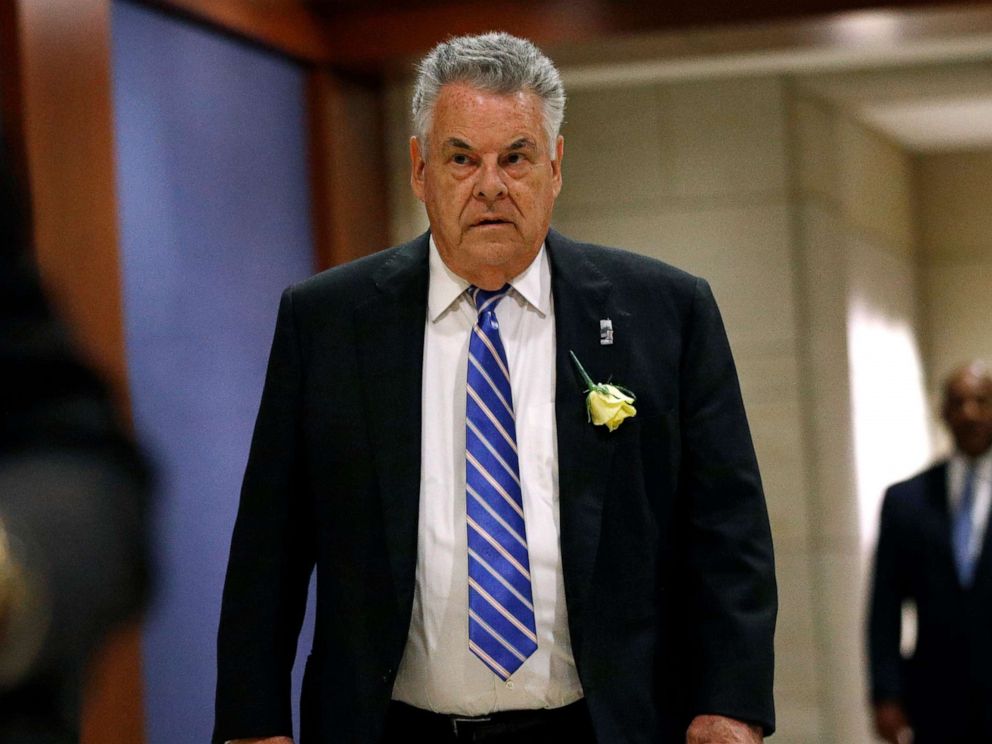 King's retirement comes in the midst of an exodus of Republicans from the House of Representatives. More than 20 Republicans have announced they will not seek another term.
King is also the third New York lawmaker to decide to leave Washington. Longtime Democratic Rep. Jose E. Serrano and the chairwoman of the House Appropriations Committee, Rep. Nita Lowey, have both declined to seek another term.
In 2017, King, the former chair of the House Homeland Security Committee was named the most bipartisan member of Congress by the Lugar Center in an index ranking of all members in the 114th Congress.
He has a D rating from the National Rifle Association, in part because he was the first House Republican co-sponsor to sign onto an assault weapons ban. Of those types of votes, he says "I have been a leader in cracking down on illegal gun trafficking, ensuring only qualified individuals are able to purchase weapons, and respecting individual state laws on firearm purchases, all while respecting the Second Amendment Rights of Americans nationwide."
King has also earned a reputation for his hard lines on immigration.
"For too long the federal government has not done enough to secure our borders or enforce immigration laws already on the books. The border situation is even more serious now because it's not just undocumented workers trying to enter the country looking for work but rather organizations seeking to exploit our porous borders to smuggle weapons and drugs into the U.S.," says King's platform on his website.
King also previously came under fire for comments and actions seen by some as Islamophobic during his tenure in Congress.
In 2011, as chair of the House Homeland Security committee, he held hearings on the "radicalization" of American Muslim communities. That same year, he said in an interview that there are "too many mosques in this country," and that "there are too many people sympathetic to radical Islam. We should be looking at them more carefully and finding out how we can infiltrate them."
Around the same time, King had told media personality Sean Hannity that 85% of mosques in the country are controlled by "extremist leadership."
In 2016, after President Trump won the election, the two held a meeting at Trump Tower. King told reporters after the fact that he urged Trump to implement a nationwide Muslim-American surveillance program "similar to what" existed in the New York Police Department's Demographics Unit.
Minnesota Rep. Ilhan Omar, one of the first Muslim women elected to Congress in 2018, responded to the news of King's retirement on Twitter Monday morning.
Peter King is an Islamophobe who held McCarthyite hearings targeting American Muslims, said "there are too many mosques in this country" and blamed Eric Garner for his own death at the hands of police.

Good riddance. https://t.co/cYZOrnaK2M

— Ilhan Omar (@IlhanMN) November 11, 2019
Senate Minority Leader Chuck Schumer, who worked with King on helping secure emergency assistance for the region after Hurricane Sandy, lauded the lawmaker in a tweet saying "he stood head and shoulders above everyone else."
Peter King stood head & shoulders above everyone else

He's been principled & never let others push him away from his principles

He's fiercely loved America, Long Island, and his Irish heritage and left a lasting mark on all 3

I will miss him in Congress & value his friendship https://t.co/GSXizZ2c5D

— Chuck Schumer (@SenSchumer) November 11, 2019
King thanked his constituents and indicated that, even though he was retiring, he would vote against Trump's impeachment and will support the president's bid for reelection in 2020. He also opposed the impeachment of President Bill Clinton in 1998.
According to ABC News partner FiveThirtyEight, King has voted with Trump 86.2% of the time. Most often he splits with Trump on fiscal issues like taxes and sanctions.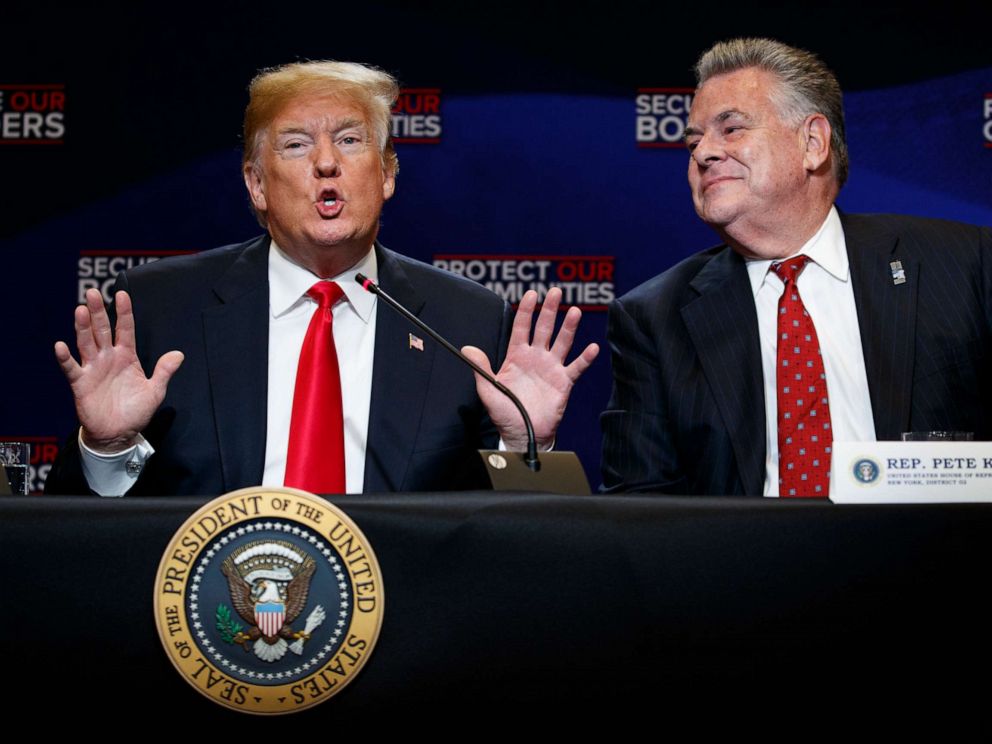 Despite the district's changing dynamics, the Cook Political Report forecasts King's seat as Likely Republican for 2020. But as evidenced by recent elections in Virginia and Kentucky, Democrats have made inroads in suburban communities, and they could have a chance at swiping King's district, which starts about an hour's drive outside Manhattan, in the next year.
Jackie Gordon, a Democrat, had previously announced that she intends to run against King.
Gordon, the Babylon town councilwoman, is an Iraq and Afghanistan veteran and had just under $130,000 cash on hand at the end of the third quarter. Gordon has scored endorsements from EMILY'S List, a political action committee that supports women who are advocates for abortion rights, as well as End Citizen's United, which backs candidates who support a change in campaign finance laws.
Original Source